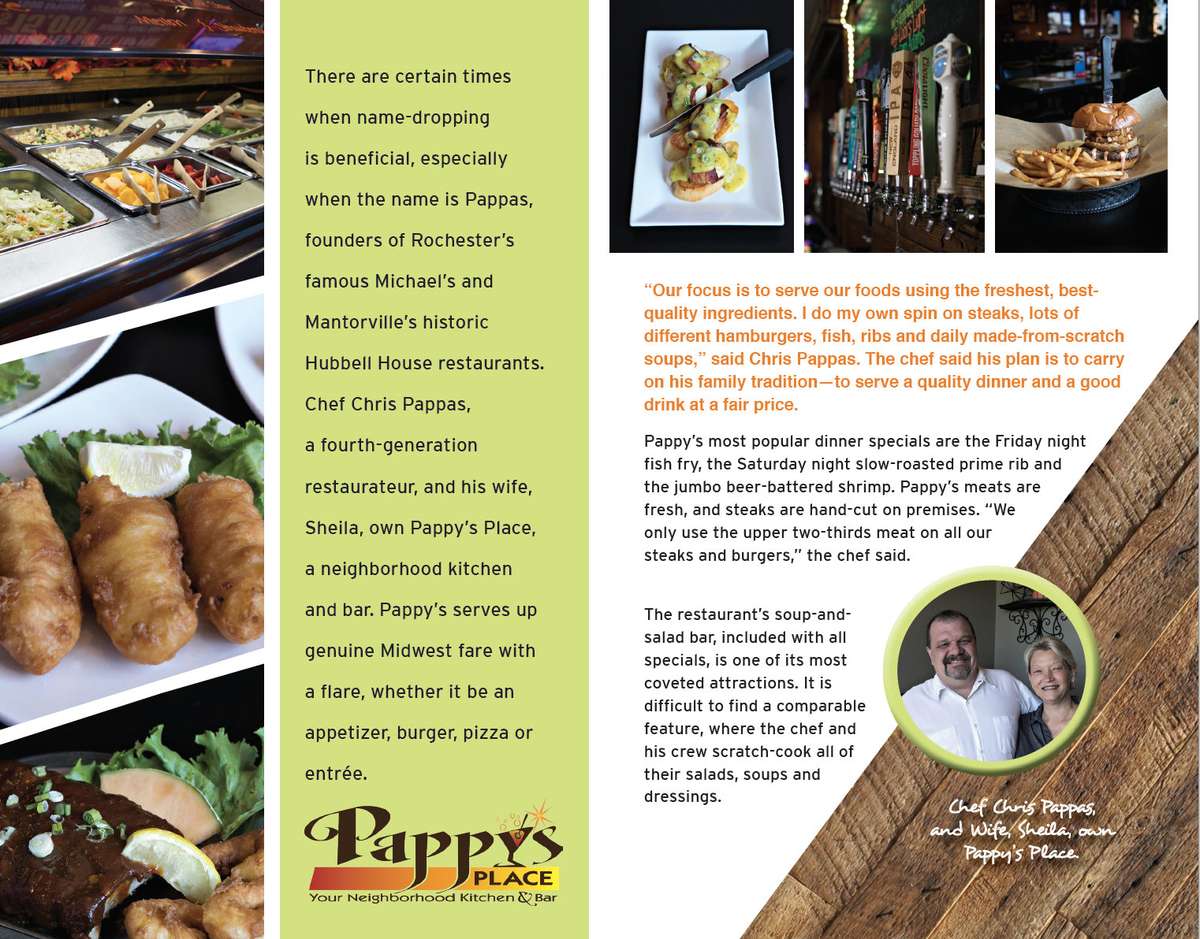 About US
Locally Owned & Operated. We Bank Here… We Hire Here… We Live Here… We Love It Here!
Pappy's Pledge
We only use the finest ingredients in all of our soups, lunch and dinner specials. We pride ourselves with scratch dressings and sauces made in house. Our beef is raised right here in the Midwest at local farms. It is corn fed and aged a minimum of 21 days, giving you mouth-watering flavor every time. We invite you to relax and enjoy yourselves at Pappy's Place and don't forget us for your next special occasion or simple get together with friends and family.

Pappy's Place – Midwest Fare with a Flare

Our Motto is exceptional food and drink at a fair price.

-Your Hosts Chris and Sheila Pappas
Meet Your Hosts
We've both been in the industry in some capacity for combined total of 60 years plus Chris is a 4th generation restaurateur. He's proudly worked in his family (The Pappas Family) in all of their various establishments his whole life, Michaels of Rochester, Hubbell House of Mantorville and Michaels Cerise in Lacrosse. We've bought some of the long standing tried and true family recipes with him, onion rings, Walleye, as well as some of his own he created in the 30 years as head chef at Michaels. Pear & Candied Pecan Salad, Scallops Benedict, Wedge Salad, Gorgonzola Dressing, and many more and they are the ones we created just for Pappy' and we are always adding more. Bruschetta Steak Bites, Steak and Blu Fondue, Quesadilla Burger, Walleye Ruben, Steak & Bleu Wrap, BBQ Pork Ribs. So come by today and try some our family legacy recipes or some of our new ones.